Day one of Camp Bestival – what have you been enjoying so far?
If you're at Camp Bestival this weekend, this is the place to tell us what you think of the festival so far
We'll also collate your views and pictures if you tweet@guardianmusic using the hashtag #CampBestival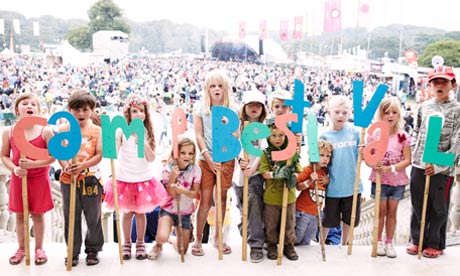 Camp Bestival Photograph: Get Involved
If you're at Lulworth Castle today – Friday – we'd love to hear what you think of the action this weekend: what do you make of the weather, the organisation, the vibe and, most of all, the music? Tell us here and we'll pull the best of your comments into our daily review, updating it as we go along in the spirit of collaborative – or open – journalism.
Using Twitter, please also send us your pictures of the festival – or anything else you want to tell us. Again, we'll incorporate everything into our coverage – so send what you have to @guardianmusic using the hashtag #womad.
If you're reading this on mobile, you can find our Guardian tent on site as you pass from the purple camping area in to the Magic Meadow. There's a team of people there who can help you sign in to guardian.co.uk/music using a number of Blackberry devices.