Womad 2012 day one, live: Jimmy Cliff, Hugh Masekela, Lo'Jo
Welcome to our coverage of Womad 2012. Stay tuned for news, views and reviews from the festival site as some of the biggest names in world music take to the stage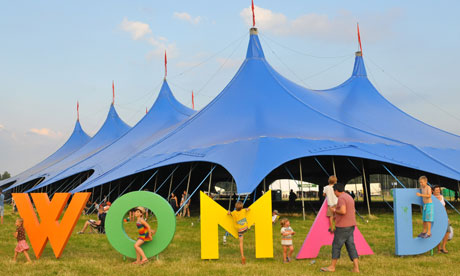 The 30th annual world music festival Womad at Charlton Park. Photograph: C Brandon/Redferns via Getty Images
12.43pm: We've also got a tent here containing a lot of Blackberry devices which festival-goers are using to tell us about what they're up to on this open thread.
Here are some of their thoughts:
I'm mabli and 14 and I love WOMAD! There is so much stuff to do places to go and people to see! It's never boring, there is always such a happy atmosphere and everyone is always smiling!
Hey guys. WOMAD is fun, I like the cool clothes especially the trousers. 6th year here, much better than sgp and outlook.
Much love,
Steven, 20, manchester
Beam from London is having sooooo much fun at WOMAD. Jimmy cliff soon woooo
Woooo, going mad at womad. Loved the soul rebels last night, what an opening! Buzzing for JImmy cliff tonight.
Nic, Fred and Tommy 🙂
And the more anonymous:
Get the salami sandwich from the chorizo stall. It's super tasty!
11.50pm: We're also asking festival-goers here for what they think of the action so far, over on an open thread.
This is what sinnikal has to say:
27 July 2012 10:38AM

Jarmean? in Molly's Bar were ace last night. In fact moving Molly's to where it is this year is a really sweet move, another late night stage before bedtime. LKJ and Dennis Bovell were good as were Soul Rebels, but Molly's was the place to be last night.
11.44pm: Good morning, Caspar Llewellyn Smith here, and welcome to what is undoubtedly the biggest celebration of talent from across the world that you'll see outside the environs of the Westfield shopping centre in east London this weekend. It's the 30th Womad festival, taking place in the grounds of Charlton Park under a blue-ish sky – the flags are fluttering gently in the breeze – and already one of my plans has gone out the tent flap.